While some would say that some of these players aren't that good, I don't agree. As a scout, I've always liked to rate a player for their best and not their worst and if they're not near their best, find out why. As a great recruiter once told me "every drafted player is capable of playing AFL football" and we've seen a lot of players written off just to thrive in another environment. Carlton has such a player: Ed Curnow.
Carlton has picked 12-15 players over the past seven years who at their best should be good to great AFL players, and they've traded for around 10, so that's the basis for a really good team. They have three very good key forwards (McKay, Curnow and De Koning), a dozen midfielders, three key defenders including a remarkable one (Weitering), running backs, versatility and depth. Their ruck is honest but no star (Pittonet) and Eddie Betts is their best and only small forward.
They have the basis of a very good football team but there is a big hole in their roster that only time will fill.
Where the top teams over the past four years – Richmond and Geelong – have plenty of armed players aged 28 and over, Carlton has few and that's why they have three years off to challenge the top teams.
Marc Murphy has been a great servant but is in his final year. Ed Curnow, Betts and Levi Casboult are also at the end of their careers, leaving Liam Jones, Jack Newnes and Nic Newman. Of these players, Ed Curnow is the only one who can claim to be in their top 10 and he should be used as a tagger more often.
In comparison, Patrick Dangerfield, Joel Selwood, Tom Hawkins and Mitch Duncan are easily in the top 10 of Geelong and Richmond has Trent Cotchin, Dustin Martin, Jack Riewoldt, Dylan Grimes and Tom Lynch. Now you see why Carlton is behind the top teams. Hindsight has shown this to be the result of poor recruiting over the years and by inference you can add development and coaching. Mitch Robinson, a player of heart and soul, was written off too easily.
The consequence of not having enough quality among players over 27 is that the Blues lack their leadership, crucial in today's football, which comes from mature players and takes time to develop. Based on their performances, from the younger brigade, Walsh and Cripps predict in spades and Setterfield and Weitering develop those qualities, but there's not much else. From the older group there is certainly Ed Curnow and maybe Betts.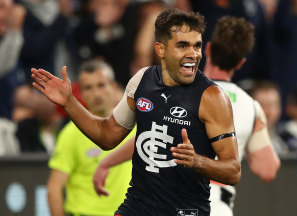 This needs to be rectified quickly through writing, negotiation, training and leadership programs as they have a roster that is about to be challenged but too many of their players have retreated this year. Petrevski-Seton, Setterfield, Martin, Plowman, Docherty, Kennedy and McGovern are all capable of much more and that's why they are taking a football department review.
From a recruiting and trading standpoint, they need to find a gun to replace Betts (Corey Durdin, whom they picked last year, could be one), two if they can. They also need a little back so Saad doesn't have to play that role and a ruck that can deliver more than Pittonet, who is honest but not among the top 12 ruckmen in the competition. It could be Alex Mirkov, who they picked up in the mid-season draft. They desperately need fit Charlie Curnow and Marchbank, Dow, Petrevski-Seton, Martin, Setterfield and Williams contribute more to the midfield to help Walsh, Cripps and Ed Curnow, and with that, they should comfortably make the eight's. next year.
Matt Rendell is a former Collingwood and Adelaide recruiter and assistant coach at several AFL clubs.
Source link